Category Archives:
Oregon State Park Information
►►All Oregon State Park campgrounds are full.
This is not the weekend to wing it!
►►Expect unprecedented traffic before, during and after
the eclipse. Avoid travel on Aug. 21.
►►The usual conveniences may be hard to get to.
Fill your tank and stock up early on food, medicine,
cash and anything else you can't live without.
►►Cell phone service may become iffy.
►►Expect campfire bans in central and eastern Oregon.
►►Expect very high tides at the coast overnight:
camping on the beach is risky. Overnight parking
on the beach is prohibited
►►Protect your eyes during the partial eclipse:
use approved eclipse glasses or filters.
Stay informed: Follow #OReclipse2017
For more information at The Cove Palisades State Park, see our eclipse page on The Cove Rattler!
Gear up with special eclipse merchandise at Oregon State Parks
OPRD's annual December parking permit sale started Thursday. From Dec. 1-31, visitors and holiday shoppers can buy an annual parking permit for only $25—that's $5 off the regular price of $30.  OPRD parking permits can be purchased online at OPRD store
Also, don't forget you can get great new gifts for the holidays too!

Staff at The Cove Palisades State Park are thankful for working in a beautiful place and all of our wonderful park visitors.  Happy Thanksgiving!
Oregon Parks and Recreation Department (OPRD) invites the public to visit state parks for free on Nov. 25. For the second successive year, the department will wave day-use parking fees at the 26 state parks the charge them.
"We invite you to join a new tradition: Green Friday," said OPRD Director Lisa Sumption. "Why not skip the mall, and instead come out to play with your family and friends at your favorite state park?"
11/25/16 – To Celebrate, The Cove Palisades State Park – Join Ranger Erin Bennett for a hike on the Crooked River Wetlands Trail at 9:00 am.  Meet at the Crooked River campground check-in booth.  Hike is approximately a quarter mile, on flat surfaces and is ADA

accessible.

  FREE

Parking is free year-round at almost all state parks; the waiver applies to the 26 parks that charge $5 daily for parking. The waiver applies from open to close on Nov. 25, except at Shore Acres State Park, where it expires at 3 p.m. for the Holiday Lights event that runs Thanksgiving through New Year's Eve. A list of parks that require day-use parking permits is at http://bit.ly/OregonStateParksParking.
Visit the Oregon State Parks website for directions to each park: www.oregonstateparks.org.
Starting November 17, 2016, state park campers can make reservations for campsites, yurts, and cabins to enjoy the August 21, 2017 total solar eclipse. The normal advance campsite reservation window opens nine months before the first night of a visitor's stay, but a temporary change to the reservation system will affect people who want to make a 14-night reservation, the maximum allowed in Oregon's State Park system.

The state park system accepts reservations nine months in advance, but it would normally be possible to get a reservation for Aug. 21 by booking the maximum 14-night stay on November 7, 2016. Given the expected high demand for sites around the eclipse, and to prevent overbooking that could interfere with other visitors' summer vacation plans, state parks along and near the eclipse path will not accept reservations for Aug. 17-21, 2017 until November 17, 2016.  This is ten days after OPRD's standard rolling nine month reservation window would normally allow a camper to make a long reservation.

On Nov. 17, 2016, the normal rolling nine month window will resume for all sites that accept reservations at parks along and near the eclipse path.

"We made this change to accommodate all visitors, both those planning for the eclipse and those who are planning an unrelated camping trip," said Chris Havel, Oregon Parks and Recreation Department spokesperson. "We encourage eclipse campers to extend their stay with us for a day or more before and after the eclipse to reduce the congestion on the roads."

The Nov. 17 reservation opening date applies to the following campgrounds inside the path of totality–Devil's Lake, Beverly Beach, South Beach, Silver Falls, Detroit Lake, The Cove Palisades, and Farewell Bend.

Campgrounds that are up to 30 miles outside the path of totality are also affected by the temporary change to reservation rules: Beachside, Cape Lookout, Washburne (yurts only), Honeyman, Nehalem Bay, Stub Stewart, Champoeg, Milo McIver, Ainsworth, Memaloose, Viento, Deschutes River, Tumalo, LaPine, Prineville Reservoir, Lake Owyhee and Wallowa Lake.

OPRD is making plans to temporarily convert first-come, first-served state park campgrounds to reservation-only for the eclipse, so additional campsites will be made available at a later date.

"We are also working on ways to open more state park areas to camping for the event," Havel said. "We want to make sure people can make solid plans well in advance to avoid congestion."

Customers can make reservations for any stay that includes Aug. 17-21 beginning at 12:01 a.m. on Nov. 17 at oregonstateparks.org.

Campgrounds run by the US Forest Service will start taking reservations six months in advance, in February 2017.

The eclipse will begin at 9 a.m. and end at 11:30 a.m. on Aug. 21, 2017. The 60-mile wide path of totality–when the moon completely blocks the sun–will last for about two minutes starting at 10:15 a.m. on the coast between Newport and Lincoln City. The path of totality then sweeps through the state and on to Idaho, then runs across the United States toward South Carolina. For more information about the eclipse, visit http://bit.ly/OregonStateParks2017Eclipse.
Labor Day has come and gone.  The rabbitbrush is starting to fade.  Geese are beginning to fly south, taking summer along with them.  Crisp nights and cool mornings are a sure sign that fall is here.  Is there anything to do at The Cove once the summer season is over?  Most definitely!  In fact, fall can be one of the most magical times here at the park.  The cooler weather makes for a great time to hike the Tam-a-lau Trail.
You can access the trail from the Upper Deschutes Day Use Area and embark on a seven mile journey.  The initial climb, an elevation gain of 600 feet in the first mile, is worth it when you reach the top and see the spectacular views of the park this trail affords.  You are certain to see some of the most awe inspiring views of Lake Billy Chinook .  It's definitely worth lugging a camera and water with you!
Not a hiker?  Being on the water provides a whole new perspective of the park, and the peace and quiet of this slower time of the year can really give you the opportunity to relax and appreciate the beauty that surrounds you.  Bring a kayak, canoe or stand up paddle board and try paddling along the Deschutes or Crooked Rivers?  Our all new non-motorized, water trail along the Crooked River will guide you on the best route for how far you want to go.
Prefer a little more information as you paddle along?  Book a guided kayak tour of the Deschutes arm of the lake!  Your guide will point out some of the geological features of The Cove and help look for wildlife as you go along.  These tours are available Thursday and Saturday mornings in September and Saturday mornings in October.  Call the park office for details and to reserve your space (541) 546-3412.
If you'd rather just to sit back, relax, and enjoy the beauty of the area;  reserve a site at the Crooked River Campground, grab some extra blankets and wood, and enjoy the colors of fall as you watch the sun set over Mount Jefferson.  If you're up for a short walk, you can take the Crooked River Wetlands Nature Trail, accessed from the boat and trailer parking area, which provides views of the first two ponds in our wetlands.  As you walk this easy quarter mile loop, you can see the bluebird house and bat boxes built by Culver students, as well as the Certified Monarch Way Station the middle schoolers planted last school year.  You never know what kind of wildlife you might encounter along the way.
As summer leaves, the busyness settles down, and fall colors peek out around the park, so does the wildlife.  This is a great time of year to see some of The Cove's residents who prefer a bit less human interaction.  Deer are more active as they prepare to rut, ducks are pairing up and coyotes have been howling.   In fact, just about any trail or dock you wander along could afford you that opportunity.  Maybe take a stroll along the water and see if the river otters are out playing.  Or just find a nice, quiet, pretty spot to sit and relax and see what wanders along.
Don't think that just because summer is over there's nothing to do or see here at The Cove.  Come on out and take a look.  You just might surprise yourself.

You may notice that all of the utility hook-up stations throughout the Crooked River Campground at Cove Palisades State Park are all now red lights rather than the traditional white lights.
During the summer of 2015 a study was undertaken at the campground where 10 campsites' utility stations were changed to red lights for illumination. Each evening the campers at these 10 campsites were asked their opinion of the change to red lighting. After they responded, they were told that the red lighting offered several advantages over the white lights.
The reasoning included:
• Most animals cannot see the red spectrum of light thereby making the campground look completely dark and more natural to the animals
• Red lights offer the same levels of illumination as white lights while allowing us humans to better adapt to the nighttime
• Red lights are not as intrusive to tent and tent trailer campers
The results of the study were more positive than anticipated. There were no negative comments and several people asked why red lights weren't being installed at all Oregon State Parks.  As an additional benefit, placing a red film over the existing white lights cost less than $0.50 per campsite.

So… enjoy the new lighting at Cove Palisades' Crooked River campground. It is beneficial to the wildlife while being less intrusive to us humans.
Thank you to Park Host Scott Spence for spearheading this project!
Sign Up to Be an Interpretive Park Host
July 1 – August 28, 2016
Have you ever wanted to teach others about nature, geology, history, astronomy, fishing, or outdoor safety skills? Have the Central Oregon High Desert as your classroom? Do you like being around people? You can do all these things as an interpretive host at The Cove Palisades State Park. This is a fun and rewarding opportunity in a breathtaking location. As an interpretive host you will be an important part of hundreds of family's summer vacation memories. Just to name a few resources to inspire your creative energy… the Cascade Mountain Range, Lake Billy Chinook, a rich and interesting local history that includes Native Americans, pioneers, homesteaders, farmers, fisherman and more, a variety of wildlife from bats to cougars, birds of prey and the unusual whip-tailed lizard, and a vast dark night sky filled with billions of stars, planets, galaxies and of course the full moon. 4th of July weekend and National S'mores Day are extra fun events here in the park with campground parades, family fun games and campfire programs. If you like to work with kids, we offer Junior Ranger Programs daily in the summer. You even have the opportunity to dress up as the Oregon State Parks mascot J.R. Beaver! Each host site provides water, power, and sewer service to make you feel right at home while you are here with us. We hope you will come join us at The Cove!
Monday, April 18th is the 73rd Anniversary of Barber's Victorious Bombing Raid that brought down Admiral Isoroku Yamamoto.
Rex was born and raised in Culver, Oregon by his parents Charlotte F. Barber and Col. William C. Barber.  He received his bachelors degree in agricultural engineering from Oregon State College and enlisted in the U.S. Army Air Corps.
Barber received his commission as a U.S. Army officer and his pilot's wings on October 31, 1941. He joined the 70th Pursuit Squadron, which arrived at Guadalcanal, Solomon Islands, in December 1942. Flying a Bell P-39 Aircobra, he scored his first victory by downing a Japanese bomber. Upon transfer to the 339th Squadron, he began flying P-38 Lightnings and claimed two Zero fighters.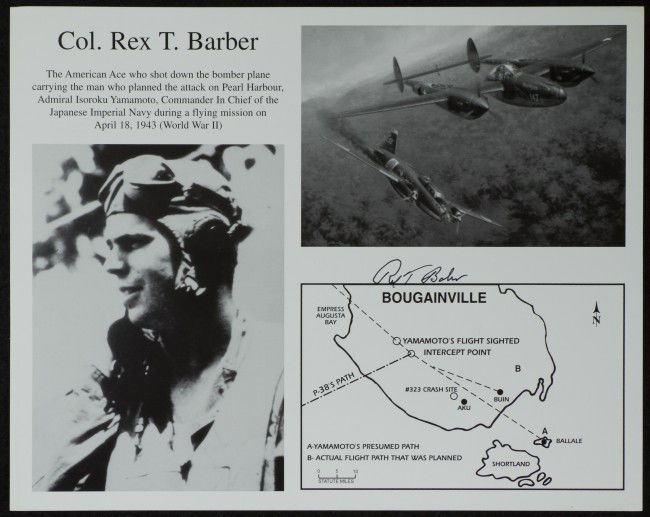 Admiral Isoroku Yamamoto served as Commander in Chief of the Imperial Japanese Navy and was Japan's foremost military leader and planned the attack on Pearl Harbor December 7, 1941.  Yamamoto was on America's Most Wanted List.  On April 18, 1943, Lieutenant Barber  participated in Operation Vengeance. Intelligence sources had learned that Yamamoto would be flying in a "Betty" bomber (torpedo bomber aircraft) on an inspection tour of Japanese bases in the northern Solomon Islands.
The shooting down of the bomber carrying Yamamoto, the commander of the Japanese fleet, was a triumph of military intelligence and flying skills.  Historian Donald P. Bourgeois credits Barber with the sole kill of Yamamoto's aircraft. In 1991, Barber and Captain Thomas George Lanphier, Jr.  were officially credited with half a kill each in Yamamoto's bomber after the Air Force reviewed the incident. Barber also shared a second Betty destroyed on the same mission. In 2003, Barber was credited by the Governor and Legislature of Oregon with the sole kill after an inspection analyzed the crash site and determined the path of the bullet impacts, thereby validating Barber's account and invalidating Lanphier's claim.  However, despite numerous appeals, the U.S. Air Force refused to reverse its 1991 ruling giving each pilot half credit for the kill.  Donald B. Rice, then the secretary of the Air Force, said in 1993: "Historians, fighter pilots and all of us who have studied the record of this extraordinary mission will forever speculate as to the exact events of that day in 1943. There is glory for the whole team."
After his tour of duty ended in June 1943, then-Captain Barber requested a return to combat. Late that year, he joined the 449th Fighter Squadron in China, still flying P-38s. He claimed three further Japanese planes probably destroyed and damaged, but he was shot down on his 139th mission, bailing out near Kiukiang on April 29. He was rescued by Chinese civilians, who treated his injuries and escorted him to safety five weeks later. At the end of the war, Barber attained the rank of major and commanded one of America's first jet squadrons.   He retired as a Full Colonel in 1961 with a Navy Cross, two Silver Stars, a Purple Heart and several air medals.
Upon his military discharge, Barber returned to Culver, Oregon, where he lived with his wife, Margaret for the next forty years. Rex and Margaret had two sons,  Rex Jr. and Richard.  He worked as an insurance agent and, at different times, served the City of Culver as mayor and judge.
He was a strong supporter of Little League Baseball, and often helped out local youth. He was actively involved in numerous service organizations until his death at Terrebonne, Oregon. His son, Rex Jr., is quoted as saying that his "afterburner just flamed out on him."
You can visit Barber's Memorial located near the south end of the bridge, at the Peter Skene Ogden Wayside, Terrebonne, Oregon.
Monday, April 18th from 10 am – 2 pm volunteers will be onsite to direct visitors to the memorial and answer questions.
Colonel Rex T Barber (1916 – 2001) served in the United States Army Air Corps in World War II and came home to Culver, Oregon a war hero.  If you've driven on Hwy 97 between Redmond and Madras, Oregon you've traveled over the Rex T. Barber Memorial Bridge.  His memorial is located at Oregon Parks & Recreation Department's Peter Skene Ogden Wayside in Terrebonne.