It's summer!  Time to hook up the boat and load the car with family, pets, coolers, the kitchen sink? and then …head for the lake.  Before you go, take a few minutes to do your homework so your trip is memorable for the right reasons.

THINGS TO CHECK BEFORE YOU GO:

WEATHER – They say in Central Oregon if you don't like the weather, wait fifteen minutes and it'll change.  Needless to say, if you are planning a trip to The Cove, you need to be prepared.  It can be hot and dry, thunderstorms can pop up out of nowhere, wind can blow over your carefully set up camp.
FIRE DANGER – Check fire danger in the area that you are going.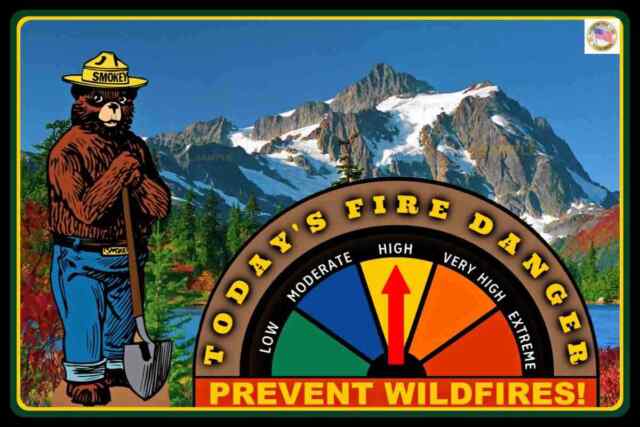 According to Central Oregon Fire Info – Whether accidental or intentional, people start wildfires every year in Central Oregon. These wildfires cost hundreds of thousands of dollars to suppress and endanger lives and our natural resources. Let's all do our part to protect these places we live by being diligent with our ignitions and leaving all fireworks at home.
START IT RIGHT
Make sure it's legal to have a campfire!
Keep your fire small and manageable
Keep your fire contained inside a fire ring or clear an area and build your own ring
NEVER leave your campfire unattended – even if you're just leaving for a few hours
Have a shovel and water available
Keep your firewood stored at least 10 feet away from your ring
STOP IT RIGHT
Slowly add water to put out all flames
Stir, scrape and separate coals
Add water until the steaming stops
Feel for heat using the back of your hand over the coals.
Continue to add water and stir until no heat remains
TRIP PLANS – it's always a good idea whether you are camping, hiking, boating or hunting that you fill out a trip plan and leave it with family or friends.  Just in case you get lost or hurt, a plan will help search and rescue personnel find you much faster.  Don't forget to get a map of where you are going too!

THINGS TO BRING:
ICE – by keeping food cold,  you and your family stay safe.  Block ice lasts much longer than bags of cubed ice.  These are essential for coolers – don't leave them in the sun or on the hot asphalt either!
WATER – Don't underestimate the value of drinking plenty of water when camping in hot climates. On an average day, we lose more than 10 cups of water just in the course of our basic bodily functions such as breathing, sweating and waste eliminations.   How to plan how much water to bring:
Adults: 2 cups (about 1/2 liter) of water for every 1 hour of hiking
Children: 1-2 cups of water for every hour of hiking
So, if you calculate that your hike will be 5 hours, then you need to bring at least 10 cups (2.3 liters) of water per person.  Obviously, if it is a hot day, then you are going to need to drink a lot more water.  In hot or humid conditions, calculate 4 cups (1 liter) per hour, per person!  Bear in mind that these are just general rules!  Some people drink a lot more water than this.  However, it is a good guideline to go by.
ALTERNATIVE COOKING METHODS – most of the time, if you can't have a wood  campfire or charcoal BBQ, you can have a gas camp stove.  It may lack the quintessential smell and look of a wood campfire but you won't go hungry and it's a lot safer.
TARPS/ROPE – when picking out your campsite, look for plants that can provide shelter, shade, and insulate you from the sun (like trees and grass).   Even best laid plans may leave you high and dry (or wet) –  you never know if you'll need additional shade or a respite from an unplanned thunderstorm or a layer between you and a flood so bring a couple of tarps and rope to tie them down.

PETS
As a park ranger, one of the most frustrating things is to witness a pet that no one planned appropriately for, that is suffering.  Remember when your pet is somewhere new unfamiliar environments may make your pet act differently than they would at home.  Make sure your dog wears their ID tags on a collar at all times. ID tags should have a phone number that you can be reached at while camping.  They are likely bombarded with unfamiliar people, smells, sounds, wildlife and other pets.  Plan for your pet and remember to bring their leash.   Pets need plenty of water and shade too.  Plan some quiet, downtime and bring things that are familiar like a favorite toy or bed to sleep on.  Don't leave you pet in the car.  According to the SPCA, ten minutes is all that's needed for the inside of a car to reach 102 degrees on an 85 degree day. In thirty minutes, the car will be around 120 degrees.  The same study found opening the windows a bit for extra air didn't help; the cars heated up at a similar rate.
For more tips, see Know Before You Go – Have a fun summer vacation!