Colonel Rex T Barber (1916 – 2001) served in the United States Army Air Corps in World War II and came home to Culver, Oregon a war hero.  If you've driven on Hwy 97 between Redmond and Madras, Oregon you've traveled over the Rex T. Barber Memorial Bridge.  His memorial is located at Oregon Parks & Recreation Department's Peter Skene Ogden Wayside in Terrebonne.
Monday, April 18th is the 73rd Anniversary of Barber's Victorious Bombing Raid that brought down Admiral Isoroku Yamamoto.
Rex was born and raised in Culver, Oregon by his parents Charlotte F. Barber and Col. William C. Barber.  He received his bachelors degree in agricultural engineering from Oregon State College and enlisted in the U.S. Army Air Corps.
Barber received his commission as a U.S. Army officer and his pilot's wings on October 31, 1941. He joined the 70th Pursuit Squadron, which arrived at Guadalcanal, Solomon Islands, in December 1942. Flying a Bell P-39 Aircobra, he scored his first victory by downing a Japanese bomber. Upon transfer to the 339th Squadron, he began flying P-38 Lightnings and claimed two Zero fighters.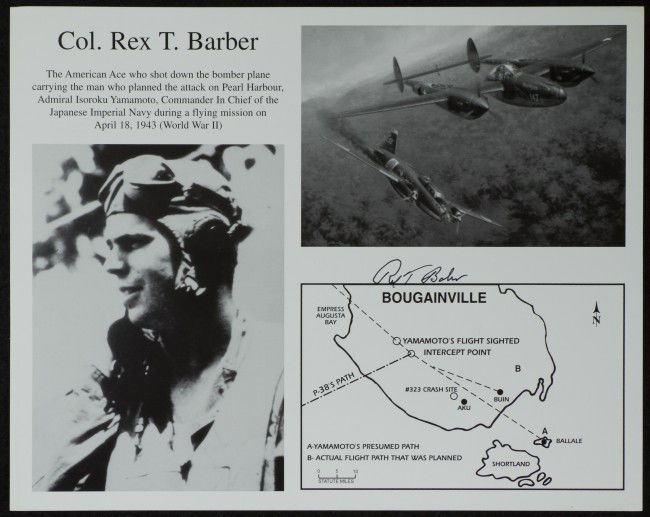 Admiral Isoroku Yamamoto served as Commander in Chief of the Imperial Japanese Navy and was Japan's foremost military leader and planned the attack on Pearl Harbor December 7, 1941.  Yamamoto was on America's Most Wanted List.  On April 18, 1943, Lieutenant Barber  participated in Operation Vengeance. Intelligence sources had learned that Yamamoto would be flying in a "Betty" bomber (torpedo bomber aircraft) on an inspection tour of Japanese bases in the northern Solomon Islands.
The shooting down of the bomber carrying Yamamoto, the commander of the Japanese fleet, was a triumph of military intelligence and flying skills.  Historian Donald P. Bourgeois credits Barber with the sole kill of Yamamoto's aircraft. In 1991, Barber and Captain Thomas George Lanphier, Jr.  were officially credited with half a kill each in Yamamoto's bomber after the Air Force reviewed the incident. Barber also shared a second Betty destroyed on the same mission. In 2003, Barber was credited by the Governor and Legislature of Oregon with the sole kill after an inspection analyzed the crash site and determined the path of the bullet impacts, thereby validating Barber's account and invalidating Lanphier's claim.  However, despite numerous appeals, the U.S. Air Force refused to reverse its 1991 ruling giving each pilot half credit for the kill.  Donald B. Rice, then the secretary of the Air Force, said in 1993: "Historians, fighter pilots and all of us who have studied the record of this extraordinary mission will forever speculate as to the exact events of that day in 1943. There is glory for the whole team."
After his tour of duty ended in June 1943, then-Captain Barber requested a return to combat. Late that year, he joined the 449th Fighter Squadron in China, still flying P-38s. He claimed three further Japanese planes probably destroyed and damaged, but he was shot down on his 139th mission, bailing out near Kiukiang on April 29. He was rescued by Chinese civilians, who treated his injuries and escorted him to safety five weeks later. At the end of the war, Barber attained the rank of major and commanded one of America's first jet squadrons.   He retired as a Full Colonel in 1961 with a Navy Cross, two Silver Stars, a Purple Heart and several air medals.
Upon his military discharge, Barber returned to Culver, Oregon, where he lived with his wife, Margaret for the next forty years. Rex and Margaret had two sons,  Rex Jr. and Richard.  He worked as an insurance agent and, at different times, served the City of Culver as mayor and judge.
He was a strong supporter of Little League Baseball, and often helped out local youth. He was actively involved in numerous service organizations until his death at Terrebonne, Oregon. His son, Rex Jr., is quoted as saying that his "afterburner just flamed out on him."
You can visit Barber's Memorial located near the south end of the bridge, at the Peter Skene Ogden Wayside, Terrebonne, Oregon.
Monday, April 18th from 10 am – 2 pm volunteers will be onsite to direct visitors to the memorial and answer questions.