Open to Central Oregon Students (4th – 12 grade) in Jefferson, Deschutes and Crook Counties …
Do you love eagles, hawks, falcons, or owls? Are you artistic? Choose your medium and draw, paint, photograph or carve your favorite bird of prey and you could win cool prizes at the 21st Eagle Watch Event on February 27, 2016.
Mule Deer (Odocoileus hemionus) are native to western North America and are one of the most commonly seen animals at The Cove, especially in the winter when visitation is low.  I was talking to a young park visitor the other day and he asked, "Do deer get cold when it snows?"  And I thought, what a great question to write about!
Deer have wonderful adaptations to survive in the high desert's frigid winter temperatures.
First of all, most deer don't live in the same place all year.  They move to winter ranges in lower elevations, where they can find more nutritious foods when it gets cold.  They are commonly found on warmer south facing slopes with less snow cover.  This is smart because when there is more than eleven or twelve inches of snow, it's hard for them to move around.  In fact deer typically won't stay in area that has more than a couple of feet of snow for a prolonged period.  They prefer forests with plants of different sizes for cover from predators, thermal protection and snow interception.
Deer are always eating.  Fall grazing for deer is full of high energy plants, seeds and nuts that allow them to fatten up for winter.  When winter comes, deer move around less to conserve energy and browse (eat) woody plants that are easy to digest like sagebrush, bitterbrush and rabbitbrush.  Their metabolism falls to half of what it is in summer, so the fat stores last longer.  If you have deer in your yard, it's better not to feed them.  Oregon Department of Fish and Wildlife discourages feeding wildlife as deer can only digest wood browse, and the extra energy used to go to and from the artificial food sources can actually exceed the energy they would get from it – making them hungrier.
Just like people, they have a winter wardrobe.  Their thick winter coat has hollow guard hairs, like polar bears, and fine hair under the guard hairs act like a fleece jacket and insulate them from the cold.  The dark color of their fur absorbs the suns heat and helps keep them warm.  Also in extreme weather, deer experience horripilation  or "goose bumps" like we do.  This occurs when skin tightens up and traps a layer of air near the skins surface which helps keep it warmer.
As you fulfill your new years resolutions to get out and exercise, find a park and marvel at how amazing our mule deer are.  Be sure to educate your children not to scare them though.  If deer get scared and run, it just uses up necessary calories they need to stay warm.  Read the rest of this entry →
The full moon in December is known as the "Cold Moon" or the "Long Nights Moon" (according to the Farmer's Almanac) because it's the month that winter begins in the Northern Hemisphere.
Rudolph may get to take Christmas off this year because the full moon will be shining bright for Santa! The cold, bright, beautiful, December full moon will rise on Christmas morning. The Christmas moon will peak on December 25 at 3:11 a.m. PST.  There has not been a full moon on Christmas since 1977 and won't happen again until 2034!
NOAA's long range forecast, is predicting temperature's in the high 30's, with a 40% chance of precipitation at Lake Billy Chinook.
The Shortest Day of the Year and the Longest Night. In the Northern Hemisphere, the winter solstice will occur on December 21, 2015 at 8:49pm PST, when the sun shines directly over the tropic of Capricorn. The sun appears at its lowest point in the sky, and its noontime elevation appears to be the same for several days before and after the solstice. Hence the origin of the word solstice, which comes from Latin solstitium, from sol, "sun" and -stitium, "a stoppage." Following the winter solstice, the days begin to grow longer and the nights shorter.  Its also the beginning of winter.
Many holiday celebrations and traditions abound this time of year. The Staff at The Cove Palisades State Park wish you and yours Happy Holidays!
This year Culver Middle School has adopted The Cove Palisades State Park as part of their STEM (science, technology, engineering and mathematics) program for the 2015/2016 school year.  "Culver Middle School is so fortunate to have the opportunity to work with Cove Palisades State Park, creating real world life experiences that foster 21st century skills to be successful in the future while also arranging a solution to a problem right in our backyard," says Mr. Brad Kudlac, Principal.
This year natural resource management is really the key focus.  Students are challenged to find solutions to real world problems in their community.  In this case they will be tackling threatened wildlife species, habitat loss from wildfire; as well as sharing local oral history.  Culver Middle School  teachers Mrs. Naomi Little, Mr. Mark Habliston and Mr. Jake Shinkle will bring several classes to the park throughout the year. Students will make significant differences in their community at The Cove by creating a certified monarch butterfly way station to aid in the butterflies successful annual migration, riparian restoration in a burned out area of the Crooked River Wetlands area and encouraging other children to learn about The Cove's history.
One of the first projects undertaken is willow propagation to help restore sections of the Crooked River Wetlands that were burned in a wildfire over the summer.  This project has already piqued the attention of the Governor's Office.  Everyone involved is really excited to make a difference that visitors and wildlife will notice and appreciate.
Coyote Willow with it's long, narrow leaves is the most distinctive of the willow species, is a perennial shrub, native to Central Oregon and much of the west.  This culturally important plant was collected by Native American's for a variety of uses including food, medicine, building material and basketry material.    It is currently found in the wetlands and is important to birds and wildlife for cover and food.  Willow is also used as stream bank erosion control.
Twenty-four students from Culver Middle School, accompanied by their teacher Mr. Jake Shinkle, came out to the park and collected more than 200 willow cuttings from existing plants that did not burn in the fire.
Ms. Maggie Prevenas, OSU STEM Outreach Coordinator, taught students that plant communities are constantly changing.  These changes can be very subtle and can be undetected by the casual observer; however from a management perspective detecting change is essential.  Maggie showed six students how to take photo points.
This method consists of taking photographs from two permanently fixed points to monitor change in the plant community over time.  Coyote willow roots freely from cuttings, and is an easy species to propagate.  Students are hoping for an 80% survival rate.  These cuttings were taken to the middle school and will be prepared.  The first step is to soak the cuttings in water.  Students will treat half of the cuttings with growth hormone and leave the other half in plain water.  Once cuttings sprout roots, they will be planted and cared for over the winter.  Next spring students will bring their new plants to the park and will repopulate an area that was devastated last August by wildfire.
  Area that will be rehabilitated.
Stay tuned for more news on all the projects and how they are progressing…
Now getting your Oregon Park and Recreation Dept. ATV Pass or Park Day-use Parking Permit is easier then ever.  Just go to https://store.oregonstateparks.org/

ATV permit
  $10.00
Must be displayed on an ATV operated on public land specifically designated for ATV use. Applies to Class I, II, III and IV ATV. Valid for two years.

12 month day-use parking permit
  $30.00
Buy a 12-month day-use parking permit for $30. Valid for 12 months from the month purchased, the parking permit is honored at all 26 Oregon State Parks that charge a parking fee. The permit is valid only in parks operated by Oregon State Parks and cannot be used for camping or extra vehicle fees.

24 month day-use parking permit
  $50.00
Just $50, a 24-month day-use parking permit offers the most value — $10 less than buying two, 12-month parking permits for consecutive years. Valid for 24 months from the month purchased, the parking permit is honored at all 26 Oregon State Parks that charge a parking fee. The permit is valid only in parks operated by Oregon State Parks and cannot be used for camping or extra vehicle fees.
See the park in a different light…
Avast Matey!
Historically skulls have been used as a warning to scare people away; whether it was primitive tribes mounting skulls on bamboo stakes or the fearsome Jolly Roger flying on the horizon.  The origin of the name is unclear. Jolly Roger had been a generic term for a jovial, carefree man since at least the 17th century and the existing term seems to have been applied to the skeleton or grinning skull in these flags by the early 18th century.
Dios de las Muertos  (The Day of the Dead) is celebrated throughout Mexico and Latin America; as well as the United States, Europe and the Philippines today but the celebration dates back to ancient Aztec traditions more than 3,000 years ago to honor the dead.
This celebration in Mexico lasts for three days, children will often build ofrendas (alters) on October 31, All Hallows Eve, to invite the angelitos (child) spirits to come back to visit.  On November 1, All Saints Day the adult spirits come to visit.  On November 2, All Souls Day, is when families go to the cemeteries to decorate the graves of their relatives with marigolds, tissue paper flowers, cardboard esqueletos (skeletons), photos, incense, and favorite foods.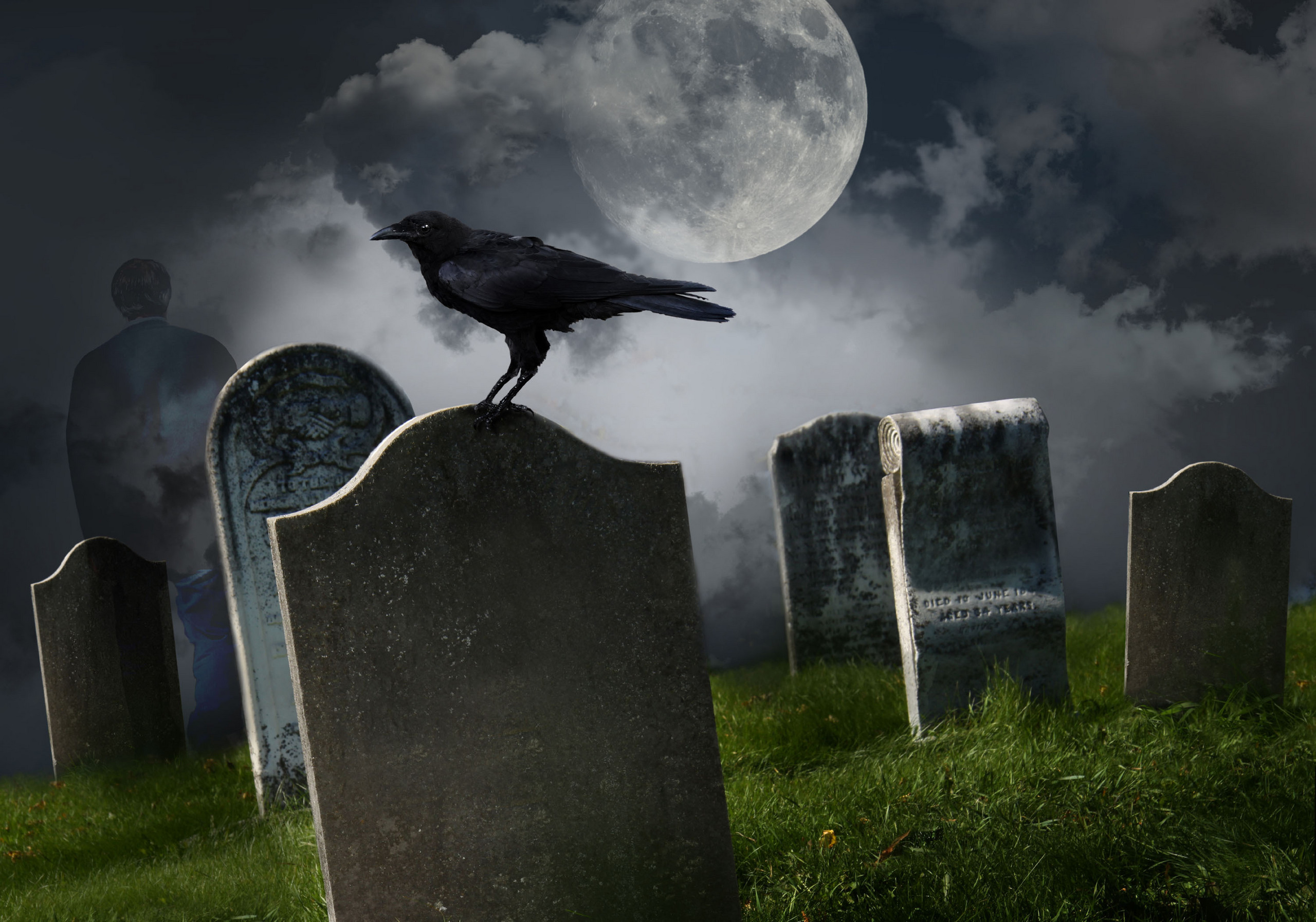 So why are bones so scary to us?  Biologically, fear exists in living creatures as a response to stimuli that threatens its survival both individually or as a species. It is instinct to fight or run from anything that might cause death.  Many people approach death itself with the same attitude. Whether faced with a spooky, old cemetery or finding a bone near a trail, many people will feel at least a little uneasy.  Throw in a crow's caw in the distance or watch the turkey vultures circle overhead, twilight approaching and you have the makings of Stephen King novel.
At The Cove you don't have to walk very far to find a bone or even an entire skeleton.  We have plenty of carnivores (i.e. coyotes, cougars, otters, eagles) that don't clean up after themselves very well.  Just yesterday I was hiking and found the remains of a mule deer.  Animals don't intentionally put bones out to scare humans but it does raise the question of who ate it and where are they now?
For some Halloween fun – can you guess what animals these bones belong to?  Come back on October 31st and find out the answers.